HFS Federal Credit Union Text Banking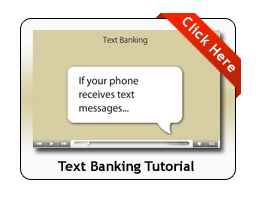 HFS Federal Credit Union Text Banking makes it easy to receive basic account balance and transaction history information from any text/SMS capable device. Activate Text Banking through your HFS Online Banking account. Click here for instructions to enroll today!
Using Text Banking you can:
Obtain histories and balance information for your share, share draft, special shares, loan, share certificate, Money Manager, IRA, Home Equity Line of Credit, Line of Credit and VISA accounts.
Once Activated, using Text Banking is easy. Simply send a text message with one of the following text banking commands to (59289) to check your balance, transaction history, or to stop this service at any time.
BAL (Returns balance information for all activated accounts)
HIST + texting nickname (ex. HIST SAV1)
STOP (To cancel text banking service at any time)
HELP (Provides available text banking commands)
Texting nicknames may be set up through HFS Online Banking under "Access Accounts"/ "Mobile Banking" / "My Accounts"
You can also set up low balance alerts and other types of alerts from your HFS Online Banking account under "Access Accounts"/ "e-mail Notification"