HFS Visa® Debit Card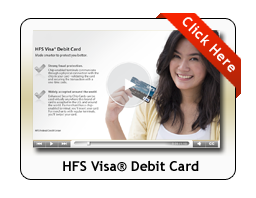 HFS Visa
®
Debit Card
HFS Visa
®
Business Debit Card
Opening an HFS Federal Credit Union checking account qualifies you for a free HFS Visa Debit Card. Use it to make everyday purchases or to get cash at ATMs anywhere Visa is accepted. Also don't forget, that as a member of HFS FCU, your debit card gives you access to any Bank of Hawaii ATM, surcharge free. That means you will enjoy the personal service of your community credit union while also enjoying surcharge free access to your account through the largest ATM network in the state. Use your debit card in three ways:
At an ATM– Our HFS Visa Debit Card can be used at over 1,000,000 ATMs worldwide.
For signature purchases– Use your debit card just like a credit card when making purchases in stores or online.
With PIN purchases– Use your debit card for everyday purchases by simply entering your same pin you use at the ATM.
With your HFS Visa Debit Card you will enjoy:
Unlimited access to your account
Make a purchase with your debit card & the funds are automatically deducted from your checking account.
Worldwide acceptance wherever Visa is accepted.
Free cash withdrawals at participating merchants
Card Valet- Get the mobile app that lets you control debit card usage and spending on the go
Call (808) 930-1400 or visit any HFS FCU branch location for more information. For a list of important numbers regarding your debit card, click here.


---
Verified by Visa for your debit card


Verified by Visa is a proven system that uses identity information or passwords to confirm the identity of cardholders during online transactions, helping prevent fraudulent purchases before they occur.

How It Works
When a cardholder makes a purchase at a participating merchant web site, the transaction is authenticated in a few easy steps:
1. Activate the Verified by Visa feature

Enroll your debit card in the Verified by Visa program.

2. Shop at participating online merchants

Visit online merchants that display the Verified by Visa symbol for an added layer of protection.

3. Enjoy enhanced security

Enjoy added peace of mind with Verified by Visa.